IJsbaan Beestenmarkt
IJsbaan Beestenmarkt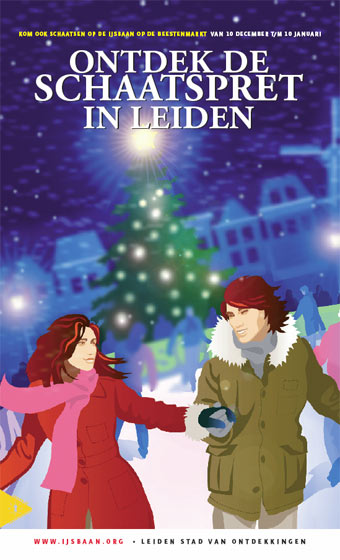 Een wintersprookje in Leiden
Kerkklokken beieren en overstemmen bijna de feestelijke vioolmuziek die klinkt in de tent. De vele gekleurde lampjes geven meer dan voldoende licht in de schemering die over Leiden valt. Terwijl opa nipt van zijn glühwein op het terras, zwiert zijn kleinzoon over het ijs. "Kijk opa, ik kan springen!". Zijn dochter neemt op dat moment een kijkje bij de levende kerststal, die midden op de kerstmarkt staat. "Die is nog wel even weg", zucht opa. Hij kent zijn dochter, zo'n kerstmarkt is typisch iets voor haar.
"Wil je erwtensoep of poffertjes", roept hij naar zijn kleinzoon. Maar die wil eerst nog op de foto met de kerstman, en daarna een ritje in de arrenslee.
Het wordt een winters sprookje op de Beestenmarkt. Vier weken lang, van zaterdag 10 december tot en met zondag 8 januari ligt er ijs op dit grootste plein van de binnenstad van Leiden. Alles in een familiaire kerstsfeer met wat trekjes van de wintersport. Met kerstbomen, lichtjes, een kerstmarkt, schaatsdemonstraties en af en toe tiroler muziek of een koor. Maar bovenal met ijs. Na vele jaren kan iedereen uit Leiden en omgeving zijn schaatsen uit het vet halen en onderbinden. In een sfeervolle ambiance genieten van dit winterstafereel. Van zaterdag 10 december tot en met zondag 8 januari komt een winters sprookje tot leven.